Likes:
Good low-end torque and high-end horsepower
Responsive turning ratio
Quality fit and finish, satisfying door-closing oomph
Dislikes:
Torque steer
Interior space a bit tight
Ford Sync touch screen not made for fat fingers
With the launch of the third generation of Focus in 2011, Ford reunited the divergent North American and European/Rest-of-world model lines into one international product. And North America is that much better for it. And with the introduction of the Mark III Focus ST, North America is in for a treat. It's not that we're in dire need of a hot hatch in the States. What with the Mazdaspeed3, the Subaru Impreza WRX, the Mitsubishi Ralliart, and the MINI Cooper JCW, the segment is smoking hot with almost too many choices. Keep in mind that the ST is not the RS, which was the street legal version of the WRC Focus that Ford used to race around the world. But the ST is a well-executed fun set of wheels that feels more expensive than it is.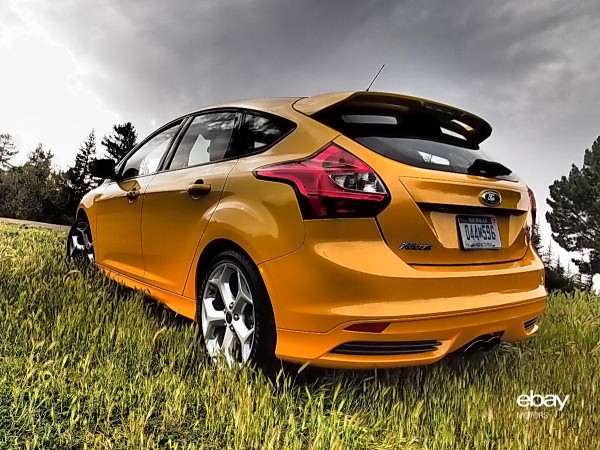 Driving Impressions
Fun. Period. The turbocharged EcoBoost 2.0 liter inline four pumps out 252 horses and 270 lb-ft of torque. Those are fantastic numbers for a 3,223-lb. compact hatch. The 270 lb-ft of torque peak at 2,500 RPM when you floor the accelerator. And floor it, I did. Coupled with the 6-speed manual, the Focus ST was a blast to drive around town. Pulling out of driveways, screeching tires in parking lots, throwing the ST around the curves of the small two-lane streets around suburban Los Gatos made my day. Little body roll, a super tight ride, man I wish I had this car in high school. Heck, I wish I had this car now. Steering was crisp and tight, and the torque steer was very evident but expected in a FWD car. It is truly a shame that the manual gearbox is disappearing these days.
Interior Comfort and Ergonomics
Ford put Recaro seats in the ST. Awesome, right? We know. They're very supportive and hug your shoulders in a way that may constitute harassment in the workplace. Great as you toss the Focus ST around the curves but probably not that kind on your body and derriere on a road trip to Vegas. Interior materials look expensive and feel expensive to the touch. Ford has really stepped up the game when it comes to interior quality.
Slam the doors and they close with a satisfying oomph. Quality. Rear legroom didn't seem great but we doubt you'd want to spend much time back there anyways. We're still not sure how we feel about the spaceship-like center stack layout and I am definitely still not a big fan of the Ford Microsoft Sync touch screen thingie or whatever they call it these days. It is not user friendly to the driver who is supposed to keep his or her eyes on the road. The interface is hard to navigate (pun intended) and the links/hot spots require a degree of precision and skill that it might take years to master the art of hitting these virtual buttons correctly.
What others are saying about the car?
Wired Magazine
"It's a five-door compact from Ford. But it's not made for grocery-getting. It's made for face-melting."
The Auto Channel
"One quick stab at the accelerator and the ST leaps onto the road. There's some turbo steer, where the engine seems to want to drive the car, but it isn't severe. I also encountered a slight tendency for the rear end to want to drift if I accelerated in the middle of a turn. Judicious use of the right foot can control both of these problems."
Top Gear
"The ST's steering, in particular, is fantastic: a variable-ratio system that quickens at the extremities of lock. That means it's nice and stable around centre – great for easy motorway cruising – but brilliantly eager into a sharp bend."
"The new ST is even a bit of a bargain, something we've not been able to say about many recent Fords."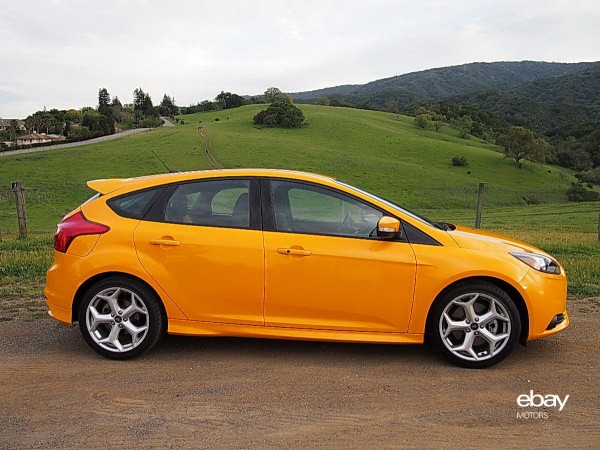 Final Thoughts
Hot hatches are making a comeback, and our streets are better for it. The Focus ST, with Euro styling and build quality to go with it, is one of the best-executed designs in this segment in our opinion. We love the new Ford corporate Aston grille and the blacked-out treatment on the Focus ST is very distinctive. Additional subtle performance styling cues set the ST apart from more pedestrian Foci without huge air scoops or over-the-top boy racer spoilers. In other words, this hot hatch won't make you look like a teenager desperate for a date.
2013 Ford Focus ST
Engine: turbocharged direct-injection 2.0L I4
Horsepower: 252 hp @ 5500 rpm
Torque: 270 lb-ft @ 2500 rpm
Transmission: 6-speed manual
Fuel economy: 23 city / 32 hwy  / 26 combined
MSRP: $23,700
See Ford Focus 2013 Cars and Trucks for sale on eBay.